Forehead lines and Frown Lines
Experience your treatment with Maison Aesthetique
Forehead wrinkles are the long horizontal lines that appear across your forehead. They will probably be more prominent when you raise your eyebrows. These lines can give you a cross appearance and give away your age.
Once again, by injecting Botox® into the muscles that cause forehead wrinkles, we can smooth away these lines. As we still want your face to look natural and take a 'less is more' approach to Botox® treatments, your face will still be expressive. Sometimes we also can treat a deeper frown line with dermal fillers.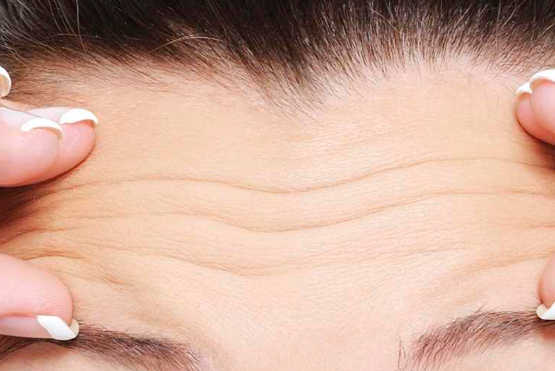 Frown Lines: Above the bridge of the nose
Frown lines are the small vertical lines that appear between the eyebrows. They may appear if you're someone who frowns a lot or if you spend a lot of time in the sun; they can also appear as a result of ageing. By injecting Botox® into this area, we can smooth away your frown lines, giving your face a more relaxed, less stressed and smoother look.
Why come to Maison Aesthetique for your Botox® treatment?
Dr Rupal Fatania BDS BSc has a gentle and relaxed manner, which makes her particularly popular with her clients. As wrinkle reducing injections with Botox® are our most popular treatment, Rupal Fatania administers dozens of these injections every day, and is also skilled at diverse and advanced procedures such as Botox® for hyperhidrosis (excessive sweating), and jaw and neck treatments. Dr. Fatania uses Botox® by Allergan, which is the only licensed brand of Botulinum toxin type A for frown lines, forehead lines, mouth lines, crow's feet, pain control and even depression.
Maison Aesthetique was voted the best clinic in the UK and Europe in a mystery shopping survey by Allergan for product knowledge and customer service, and we are one of the few clinics to be registered with the Government-approved IHAS.
Botox® treatment to suit your face
Discuss your needs at a free, in-depth consultation where all your questions will be answered
Receive advice on ways to maintain your skin in the best possible way
Early and late appointments to fit around your busy life
Our comprehensive knowledge of head and neck anatomy and physiology, together with extensive training in the use of cosmetic treatments, give outstanding natural-looking results
Dr Rupal Fatania has been providing these wrinkle reducing treatments for over twenty years
Rupal is skilled in anti-wrinkle treatments, fillers and the 8-point lift (the nearest procedure to a face lift)
Keep your secret safe – leave with a flawless finish with a Youngblood mineral make-up makeover
Dr Fatania trains other medics in Aesthetic treatments

What are Frown Lines?
Frown lines are caused by the Corrugator Muscles pulling the brow down and inwards. They are also known as 'the 11's'. Botox® is the first treatment of choice. If the frown lines are obvious at rest too, superficial use of a fine Dermal Filler such as Juvederm Ulta 2 is helpful. An important anatomical point of interest is that the Corrugator muscles are overlaid by the lower part of the Frontalis or forehead muscle. So in treating frown lines the lower part of Frontalis is also inevitably treated with Botox® too. Interestingly, if only part of a muscle is treated with, Botox® the untreated part may compensate by becoming over active. So, to avoid this in the case of the forehead muscle, when treating frown lines we also treat the upper part of the forehead to prevent formation of new lines near the hairline.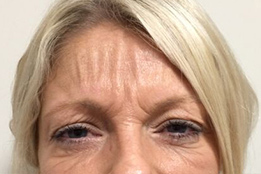 Frown lines can make the appearance of someone being angry when really they are not, this can effect a person's self-esteem. Frown lines can be habit forming from simply scowling too long at a computer screen or concentrating for long periods of time.
Botox® can be used to relax these frown lines and create a smoother and more relaxed appearance. You can expect to see results lasting between 3 and 6 months. If a Dermal Filler is placed you can expect to see results lasting 6 – 9 months. The combination of Botox® and Filler produces the best results. The frown lines are often treated with the rest of the upper third of the face to provide a natural result and allows congruency to flow within the facial features.
Frowning and the links to Depression.
Scientists believe emotions can be "reverse engineered" — if a patient is prevented from frowning, the theory goes, their brain may think there is nothing to worry about.
"The basic principle is that there is feedback from the body to the brain so the brain always knows what the body is doing," said Marc Axel Wollmer, the psychiatrist in charge of the trials being held jointly at Basle University, Switzerland, and Hanover University, Germany.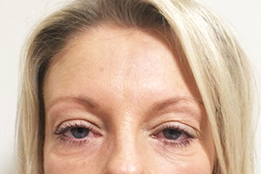 "If we have an emotion like joy or grief we also have a facial expression that corresponds," he said. "Studies indicate that if we deliberately produce a facial expression, there is a change in feeling." Thus if one is prevented from frowning through Botox® treatment the theory suggests that we are less likely to feel depressed.
The theory is called "facial feedback hypothesis". Another example is that someone who is forced to smile at a social event where the person is feeling uncomfortable may find he or she enjoys it more.
An initial experiment by another team used Botox® on 10 depressed patients. After two months nine were no longer depressed and the 10th patient reported an improvement in mood.
Read more