Lip Enhancement
Experience your treatment with Maison Aesthetique
Full well defined lips are the touchstone of a beautiful smile. As we age we lose volume in the lips, the shape becomes less sharp, but here at Maison Aesthetique, we are able to provide lip fillers in Exeter and Plymouth. We pride ourselves at Maison Aesthetique in focussing on a natural look to your lips. Rupal and the team are skilled in giving you the lips you've always dreamed of, through the use of our fantastic lip enhancement treatment, using lip fillers.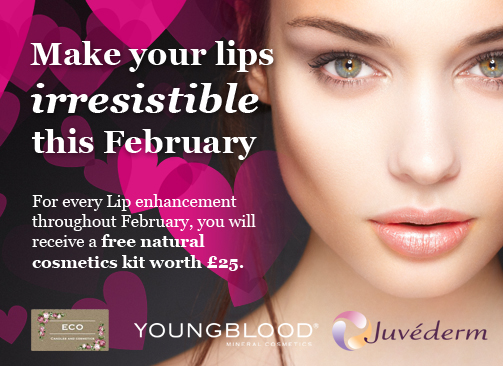 It is important to maintain the V shaped Cupid's bow
We use the gold standard Juvederm Volbella
Using Botox can also relieve tension in mouth to jaw line
No more lipstick bleed lines
We aim to create the perfect proportions with our lip fillers
Appear happier and relaxed with treatment to the corners of the mouth
Discuss your needs at a free, in-depth consultation where all your questions will be answered
Receive advice on ways to maintain your skin in the best possible way
Early and late appointments to fit around your busy life
Our comprehensive knowledge of head and neck anatomy and physiology, together with extensive training in the use of cosmetic treatments, give outstanding natural-looking results
Dr Rupal Fatania has been providing treatments with lip fillers for many years
Rupal is skilled in Botox® anti-wrinkle treatments, fillers and the 8-point lift (the nearest procedure to a face lift)
Keep your secret safe – leave with a flawless finish with a Youngblood mineral make-up makeover
Dr Fatania trains other medics in Aesthetic treatments
For more information about lip fillers in Plymouth and Exeter, or to book an appointment with a member of our team, please contact us today. Call us on 01803 864407, email info@maisonaesthetique.co.uk or complete our contact form.